Understanding your EOS R-series Camera – Practical Course
AP01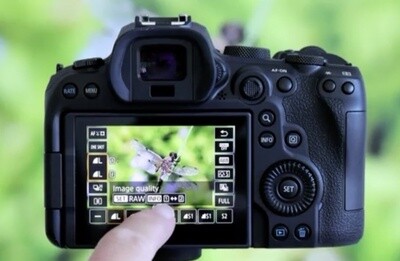 Practicals
If you're finding your R5, R6, R6 Mark II, R7, R8, R10 or R50 camera a tough nut to crack, then you're not alone. Even if you've been using a Canon camera for many years, the new technology on these cameras is transforming the way we shoot.
The introduction of the Canon EOS R mirrorless camera system has heralded the biggest change in the way we shoot since the transition from film to digital. With this change comes challenge… and a very steep learning curve.

Learn how to adapt your technique to the technology with this small group practical day, specifically for owners of the EOS R5, R6, R6 Mark II, R7, R8, R10 or R50 cameras.
Not only that, but you'll also get more than three hours of video tutorials to increase your knowledge, with our blended learning approach.
What's included?
– Three hours of video tutorials, to watch before your course (and available afterwards)
– Course workbook
– Full day practical session with experienced Canon specialist tutor, to put into practice what you're learning

What will I learn?
Before the course, you'll receive access to your online learning platform, where you begin your journey. This is an essential part of your course, as you'll learn the layout and features, so you can navigate your camera with confidence on the day.
There are three lessons to watch, which are specific to your camera model:
1| Camera layout and key menu features
2| Key shooting settings
3| Autofocus operation

This will give you a good grounding in camera handling and navigation, plus an overview of the core focusing set-up and features on your EOS camera, which you'll explore more with your tutor. Then, on the day of your course, you'll learn more about some of the key features and settings on your camera, as follows:

– Fv mode
– In-body image stabilisation – how to activate it and when to use it
– Shutter modes – mechanical vs. electronic
– New Mirrorless controls
– Real time features, such as exposure compensation, white balance, depth-of-field preview
– Focusing set-up for static and moving subjects – you'll learn how to use the main autofocus options
– Case settings
Plus, as it's only a small group, you'll get one-to-one support from your tutor and plenty of opportunities to ask any questions you have, whether from the video tutorials or on the day itself.
By the end of this practical course, you'll have a much firmer grasp of your EOS R-series camera, be much more confident in navigating and operating the key controls, and ready to use your camera to shoot better images.
Your course includes:
– Full day's tuition in a small group (max. 5)
– Pre-course video tutorials
– Course workbook
– Entry fee to venue (where applicable)
Not included:
– Equipment
– Food or drink

Compatibility:EOS R5, EOS R6, EOS R6 Mark II, EOS R7, EOS R8, EOS R10, EOS R50
New dates are added regularly – check back soon (0)
EOS R5 (0)
EOS R6 (0)
EOS R6 Mark II (0)
EOS R7 (0)
EOS R8 (0)
EOS R10 (0)
EOS R50 (0)