Understanding your Canon EOS 5D Mark IV – Online course
AO03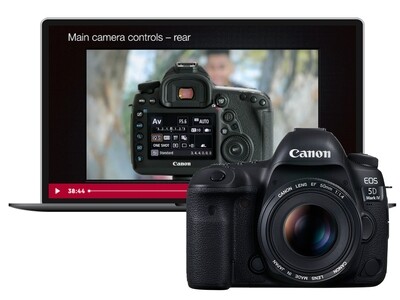 Online
Cameras are complicated. With a maze of menus, dozens of buttons and dials, plus all the usual photography jargon to wade through, it can feel like an uphill struggle when trying to navigate round your camera. After all, what you really want to do is get out with it and start shooting.
To get the most from your Canon EOS 5D Mark IV, you need to learn about its many features and settings options, so that you're comfortable and confident in setting up your camera to suit your subject.
Get camera confident with this in-depth, online course which you can take at your own pace. You'll get access to our dedicated Learning Platform, from which you can stream your course at your leisure, with your camera in hand.
Packed with nearly eight hours of video tutorials, you'll work your way through how your Canon 5D Mark IV DSLR camera works, what the various features are for, and when to use them to maximise the camera's potential and propel your imagery forward.
Presented by Nina Bailey, Senior Tutor at EOS Academy and Technical Editor of EOS magazine, you will be guided with a combination of hands-on with camera segments, live to-camera presentations, plus lecture-style content.
In addition you'll get access to extra resources to download (COMING SOON). What's more, you get lifetime access to the course so you can dip back in any time you want to freshen up your knowledge and skills.
This course is self-paced and is streamed online via the EOS Academy Learning Platform. We recommend that you follow the video tutorials in order, after which you can dip in and out as needed, and refer back any time you like.

Course chapters
Introduction
– Getting to know your EOS 5D Mark IV camera
Key controls
– Viewing options: Optical viewfinder vs Live View
– Navigating the displays and setting screens
– Key camera settings and what they do
– Understanding and using the exposure (shooting) modes
Focusing
– Introduction to the Autofocus (AF) system using the viewfinder
– Introduction to the Autofocus (AF) system using Live View
– Advanced AF options
– Manual focus (MF)
– Using Extenders (teleconverters)
Image processing
– Basic in-camera features for optimising images
– Advanced In-camera features for optimising images
Core camera functions
– Menu system: Key menu settings and useful features
– Wirelessly connecting to your smart devices and computer
Advanced set-up
– Customising your camera with Custom Functions
– Customising your camera with Custom controls
Movie mode
– Introduction to video shooting
Total video content length: 7 hours 47 minutes

Compatibility:Canon EOS 5D Mark IV